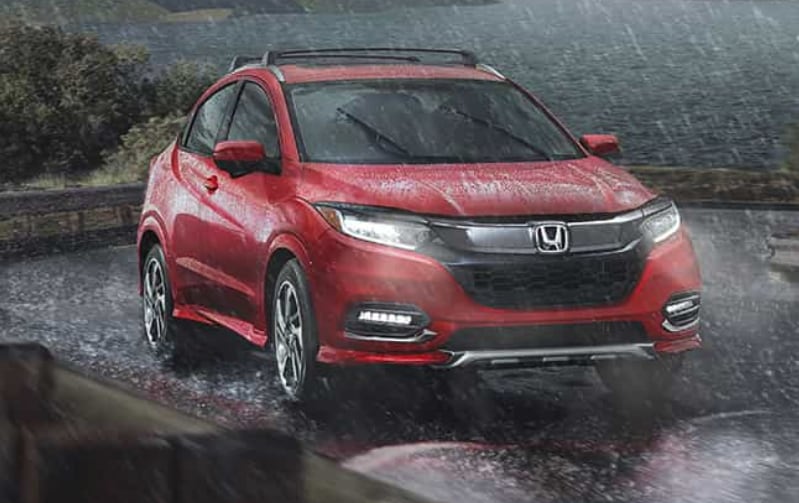 When you are choosing any vehicle, you want to make sure that you are selecting a safe option. After all, you and the people you care about will be driving and riding in that vehicle, so safety should undoubtedly play a huge role when it comes to deciding which vehicle to buy. You will also want to have a vehicle that offers the latest technology upgrades to keep your family on the cutting edge. The HR-V might be just the vehicle for your needs. Let's get a closer look at some of the safety features and technology available on these new crossover SUVs.
Road Departure Mitigation System
This system keeps track of the lanes on the road in front of you, and it helps to keep you from veering off track. It detects when your car starts to leave the road without using your signal, and it will then provide steering assistance to return you to your lane. It can also provide braking if needed.
Collision Mitigation Braking System
This is another one of the excellent safety features with the Honda HR-V helps to slow your vehicle when there is a collision that looks like it is unavoidable. The reduction in speed will help to reduce how severe the crash is in many cases, and it could also help to reduce injuries. If the speeds are low enough when the vehicle detects a collision, it is even possible to avoid the accident entirely.
Lane Keeping Assist
This works similarly to the Road Departure Mitigation System. It helps to keep drivers from drifting out of their lane. Drifting like this can occur when a driver is tired or distracted. Regardless of the reason, it is dangerous to drift into other lanes. The system helps to provide adjustments to the steering to keep you in your lane.
A Tech-Filled Option for the Modern Driver
The car has all of the controls and buttons that the driver will need within easy reach. There is an available 7" display audio touchscreen, as well as an automatic dimming rearview mirror. The instrument panel in the roomy vehicle is bright, making it easy to see no matter the time of day. You can connect your iPhone with Apple CarPlay or your Android phone with Android Auto. There is an available Honda Satellite-Linked Navigation System that features voice recognition, as well as Honda HD Digital Traffic.
If you choose the Honda HR-V, you might also want to consider using the HondaLink app. This will let your phone connect to your vehicle, making it easy to do things like remember where you parked, check your fuel range, and even schedule appointments for servicing your vehicle.
Bring Home a Honda HR-V
With all of the tech and safety features of the vehicle, along with the other benefits, such as comfort, fuel efficiency, and a great style, you might want to have one of these HR-Vs in your garage.